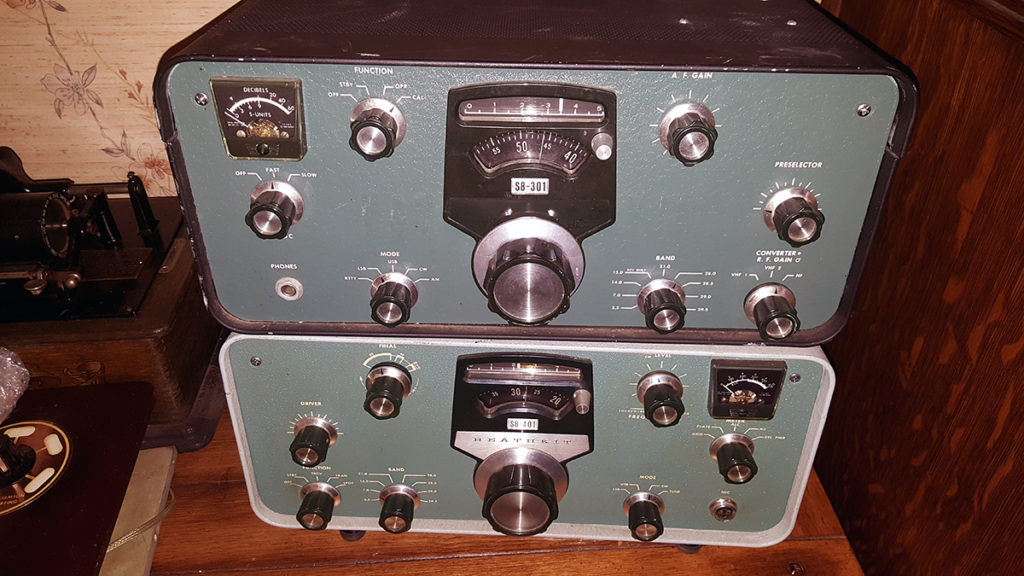 The first "serious" station I owned was the Heathkit SB-301/401 combo. I enjoyed contesting in the early 70's and these, along with a home brew amplifier using a pair of 4-400A's, did a fine job for me. I also had an Eico 730 modulator connected to the SB-401 finals in a plate modulation scheme so I had real AM capabilities; not a common thing in the 70's. Many rigs of that era included the AM mode, but it was usually a low level thing, not much more than unbalancing the balanced SSB gemerator. I also had the matching SB-500 two meter transverter, which I used to communicate through AMSAT-Oscar satellites 6 and 7. All in all, I got more use out of the Heathkit twins than any other equipment I ever owned. It is no wonder that I would like to have a set of those twins available again.
I violated one of my own rules in acquiring this particular pair. I don't mind repairing or refurbishing communications gear but don't like to get involved in finicky cosmetic re-work so I usually look for gear with no external flaws. The receiver above has had its cabinet painted black at some point. This might have been done to match the blackout SB-200 that was offered one year. Still, the front panel and lettering are excellent and there are no dents. It won't be very challenging to shoot the cabinet with a close enough color match. If not, I should stumble upon a replacement cabinet sooner or later.
I may actually get an antenna or two up tomorrow. If so, I'll be busy setting up the FTDX-1200 station and running power, grounds, and coax for a little while. Then I can start getting some of this vintage gear whipped into shape. I have an extra desk with a riser in the office, so I should be able to have the Yeasu, the KWM-2, the S-38C, and the Heathkit twins all set up together at some future date (after everything is working, of course). I suspect there won't be room there for any more projects. That is OK; this will be enough to keep me busy for a while. I suppose I could set up an alternate station in the upstairs office, as there is an extra desk there as well. I had originally planned to set up the station on that desk; the Yaesu and Kenwood transceivers are on there now – but I think I would enjoy it more downstairs. I can have a much better RF ground there, too.